At the 2007 Gesneriad Society convention in Miami, two plants of this species were exhibited, both having traveled 3000 miles to get there! Bill Price's plant is shown on the Gesneriad Society website. Peter Shalit's was equally striking, with fewer flowers but two large leaves, which makes the transportation accomplishment all the more impressive.
Bill's striking tuber-and-flowers plant brought up an interesting judging puzzle: How do you judge "cultural perfection" if there aren't any leaves?
The picture below is Peter's plant.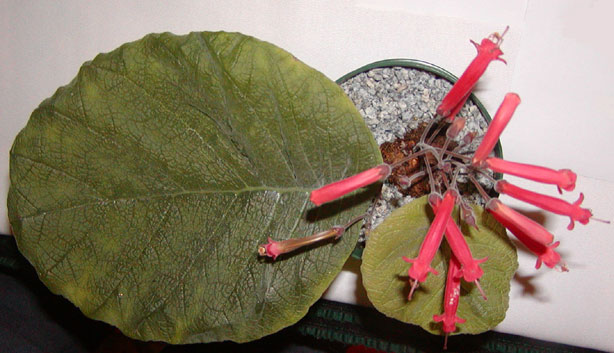 In 2010, Bill Price exhibited a sinningia collection which included a large Sinningia defoliata with five leaves. Pictures of this plant can be seen here.
Malme, 1937, as Corytholoma defoliatum. Chautems transferred it to Sinningia in 1990.
Etymology: from Latin de- ("off, down, away") + -folia ("leaf").
Not, presumably, "leafless" but rather "leaf dropper".
While most sinningias drop their leaves at some point, it is the habit of blooming while leafless that inspired the name.