Vanhouttea leonii
I have not grown this one. As far as I know, I have never even seen a plant of this species.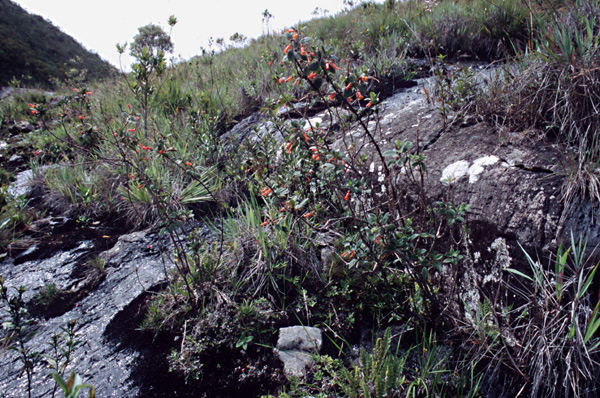 Here, however, is a picture of V. leonii in habitat, courtesy of Alain Chautems. It appears we should be growing our vanhoutteas in the crevices of rocky outcrops, surrounded by plenty of weeds. The rocks may allow the plant to get plenty of sunlight while protecting the roots from drying out too much.
Feature table for
Vanhouttea leonii
Plant Description


Growth
Indeterminate
Habit
Upright shrub
Leaves
Green on top, back paler.
Dormancy
No tuber

---

Flowering


Inflorescence
axillary cymes of 1-3 flowers
Flowering
Summer-autumn (in Brazil), according to publication
Flower
Tubular, orange, red, or maroon, about 1 inch [2.5-3.2 cm] long (smaller than other vanhoutteas).

---

Horticultural aspects


Hardiness
No data.

---

Botany


Taxonomic group
The free-calyx-lobe vanhouttea clade.
Pollinator
Probably hummingbirds.
Habitat
Eastern uplands of Minas Gerais, Brazil, above the tree line.
Nectaries
Five glands.
Mauro Peixoto's web site has a page about Vanhouttea leonii.
The species V. leonii was described in Alain Chautems's paper "New Gesneriaceae from Minas Gerais" (2002). It grows in Minas Gerais state of Brazil, in the same general area as V. pendula: the mountains near where the three states of Minas Gerais, Espirito Santo, and Rio de Janeiro meet.