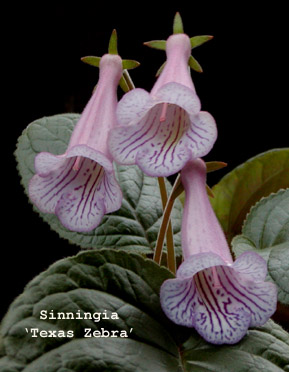 Sinningia 'Texas Zebra'
S. 'Texas Zebra' is a hybrid created by Dale Martens. It is S. 'California Gold' (an early Martens hybrid) x (eumorpha x striata). Since 'California Gold' has some eumorpha in it, there is quite a bit of eumorpha in 'Texas Zebra', and this shows in the leaves.
This handsome hybrid has dramatically striped flowers and a compact growth habit. This makes it a good candidate for growing and for further hybridization.
I applied pollen from my hybrid S. 'Peninsula Belle' (which is S. lineata x reitzii) to S. 'Texas Zebra' and got a fruit (there is a picture of it). I sowed the seed in January 2006, and some of the seedlings have now bloomed.

The top flower in this picture is Sinningia 'Peninsula Belle'. The remaining five are S. 'Texas Zebra' x 'Peninsula Belle'.
The second flower (first of the TZ x PB flowers) is very eumorpha-like. It is almost pure white, with only a couple of very faint purple lines on the lobes. It and #3 are also the largest. The stamens, style, and stigma are also the same brilliant white.
The third and fourth flowers from the top most resemble S. 'Texas Zebra', with heavy striping on the corolla lobes. The third is about the same size as the pure white flower. Unlike #4, it has a yellow area on the base of the throat, which it presumably inherited from 'Texas Zebra' (and ultimately from S. eumorpha), since 'Peninsula Belle' has no yellow (nor do either of its parents). The style is pale purple, and the stigma is outlined in dark purple, a nice effect, and the only one of these flowers to exhibit that trait.
The fifth flower is a pale lavender pink with very faint stripes. The stigma is the same color.
The sixth and last flower is almost as large as #2 and #3. There are some distinct but low-contrast stripes on the lower lobes. The filaments (stamen stalks), style, and stigma are all pale violet.
One feature that I won't know until next year is flower count. S. 'Peninsula Belle' has reitzii-like peduncles and therefore several flowers per axil. S. 'Texas Zebra' has the eumorpha pattern of (usually) 1-2 flowers per axil. At this writing, the crosses are less than a year old, so the fact that they have mostly one flower per axil can't be taken as a firm indication they can't have more. The white-flowered one has two per axil, so that's a hopeful sign.
Because all the ancestors of these plants are rather closely related, it is no surprise that the plants are fertile. A couple have selfed. I will be looking to continue this project with some more crosses.
Plant Description


Growth
Indeterminate
Habit
Erect stem with opposite leaves
Leaves
Dark green with reddish leaf backs, depending on light
Dormancy
Stems fully deciduous

---

Flowering


Inflorescence
Axillary cymes, usually (but not always) of just one flower.
Season
Spring, summer
Flower
Lavender, striped with dark purple

---

Horticultural aspects


Hardiness
No data yet.

---

Hybridization


Hybridizer
Dale Martens
Fertility
This hybrid is fertile. I have done crosses with it.