Sinningia eumorpha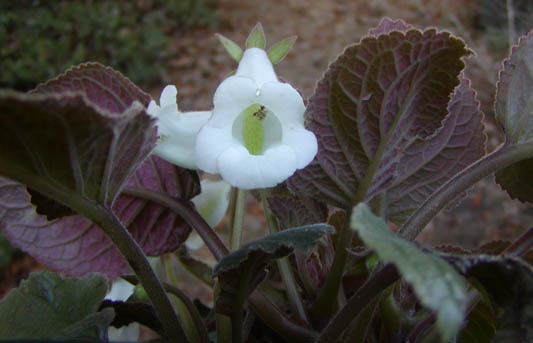 Sinningia eumorpha has flowers with a yellow stripe down the center of the tube. There are purple markings in the yellow stripe; The corolla itself is either white (as here) or lavender. The white seems more attractive to me.
Unfortunately, this particular plant is no longer alive.
Sinningia eumorpha has been used a lot in hybridization, and was one of the main parents of the xGloxinera hybrids of 50 years ago. It brings a lot of good qualities to hybrids, such as compactness, good leaf texture, and quickness to bloom from seed. This species usually has only one flower per axil, so increasing the flower count by appropriate choice of breeding partner is one of the goals when hybridizing with it.

At the right is the flower of S. eumorpha x (eumorpha x piresiana). The picture is by Brad Walker of his own plant. Even though S. piresiana is only 1/4 of this plant, its influence comes through very clearly, in the spotting on the outside of the corolla tube. The eumorpha contribution is in the shape of the corolla and in the throat yellow.

Bill Price crossed the variety S. eumorpha 'Saltão' with Sinningia sp. "Ibitioca" to get a nice hybrid.
This photograph, by Brad Walker of his own plant, shows the flower of S. eumorpha x rupicola. To the best of my knowledge, this is the first rupicola hybrid, but the best of my knowledge is usually not good enough.

You will write in to correct me, won't you?

There are many more hybrids of Sinningia eumorpha than are mentioned on this page. To see links to several others (as I incorporate them), click here.
See three views of a S. eumorpha tuber.
Feature table for
Sinningia eumorpha
Plant Description


Growth
Indeterminate
Habit
Stem(s) upright
Leaves
Green, some with red or red-tinged reverse
Dormancy
Stems fully deciduous. Dormancy appears to be obligate.

---

Flowering


Season
Blooms in summer
Flower
White or lavender, campanulate, usually one per axil
Inflorescence
Axillary cyme, usually one flower

---

Horticultural aspects


From seed
19 months to bloom, under my conditions. You can almost certainly do better, since S. eumorpha bequeaths rapid maturation to its hybrid progeny.
Hardiness
Has survived 28F (-2C) in my yard
Recommended?
Yes, with reservations. I have not had a lot of luck keeping plants of this species alive for more than a few years. On the other hand, they have nice foliage, and interesting flowers (especially if you like a lavender/yellow color combination). In addition, this species is a superb parent for hybridizing.

---

Botany


Taxonomic group
The eumorpha group of the Dircaea clade.
H. E. Moore, 1954.
Etymology: eu- ("good") + -morph ("form, shape").